"We danced to this when we were eighteen! Do you remember, Arthur?"
-- Molly Weasley, while listening to Celestina Warbeck on the WWN (HBP16)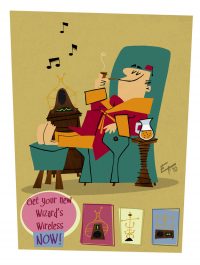 The equivalent of a Muggle radio; the Weasleys have one of these in their kitchen. The WWN (Wizarding Wireless Network) is listened to by many in the wizarding world.
Ron brought a small wooden wireless with him on the hunt for the Horcruxes. (Of course, it didn't need batteries or power cables.) To tune it, he would tap it in patterns with his wand, while muttering possible passwords to access Potterwatch broadcasts (DH20, DH22).
One popular program on the WWN is the "Witching Hour, with the popular singing sorceress, Celestina Warbeck." Warbeck is a particular favourite of Molly Weasley's (CS3, HBP16). Witch Glenda Chittock is the host of "Witching Hour" (FW). Another popular musical group on the WWN is the Weird Sisters (GF22).
Celebrity gardener Tilden Toots had a program called "Toots, Shoots, 'n' Roots" in which he answered questions about plants (JKR).
Commentary
Tags: communication entertainment information music news noise radio sounds