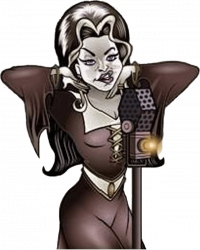 Glenda Chittock is a popular presenter of the W.W.N. (Wizarding Wireless Network) program Witching Hour (FW).
Skills
Communication
Glenda Chittock
Profession
Host of Witching Hour
Commentary
Etymology
Glenda is similar to Glinda, the name of the Good Witch in The Wizard of Oz.
Chittock is possibly a combination of "chit-chat" and "talk," which would be appropriate for a radio host.
Notes
Glenda appeared as the Wizard of the Month on JKRowling.com for October, 2004 (JKR).
Pensieve (Comments)