Bouncing bulbs losing height?
Devil's Snare merely tickling?
Fanged Geranium nothing but gums?
Then tune your wireless to
Toots, Shoots 'n' Roots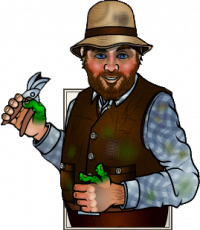 Tilden Toots was wizard with "three green thumbs" who hosted a Wizarding Wireless radio show on Herbology. He was married to the author Daisy Hookum (JKR, WoM).
Quote from his radio show:
. . . be sure to tune in next time when we'll be discussing the right way to skin a Gurdyroot and what to do if Muggles hear your Honking Daffodils. Until next time, that's Tootle-oo from Toots!
Family
Married to Daisy Hookum who wrote "My Life as a Muggle" after giving up magic for one year (JKR).
Skills
Great at sharing his gardening know-how. Invented Rejuicing and Regerminating Potion.
Tilden Toots
Other Names
"the wizard with three green thumbs"
Distinguishing Features
Has a broad West Country accent, two thumbs on one hand.
Profession
Celebrity Gardener, Inventor
Commentary
Etymology
"Tilden Toots" is possibly a pun on "Tilled-in Roots."
Notes
Tilden might have been at Hogwarts along with the Potters, the Longbottoms, Sirius Black, and Snape since he was born in 1959, just a year before most of them.
Pensieve (Comments)
Tags: communication gardeners gardening green growing JKR.com WotM