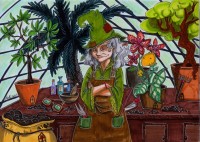 Herbology involves the study of plants as they relate to the Wizarding world. Some of the plants studied in Herbology classes are semi-sentient and are essentially magical creatures. These can be quite dangerous. Other plants are magical versions of what Muggles would consider to be normal, mundate plants. In some cases, plants which are well known to Muggles are studied by Herbologists for their hidden, magical attributes.
Some plants are cultivated specifically for use in potions. At Hogwarts, the Herbology professor grows these for the Potions Master, who then cuts, slices, dries, crushes, or otherwise prepares the roots, leaves, or other parts. Some plants are cultivated for use in Healing, and the Matron (Nurse) uses these in the Hospital Wing.
Witches and wizards can make a career of working with plants and herbs. Many great discoveries have been made over the centuries which have improved the lives of many, including bubotuber pus to cure acne and gillyweed to allow breathing underwater. However, everyone in the Wizarding world should have some level of understanding of magical plants, whether it is to properly tend a Wizard's garden or to understand which herbs to buy for basic day-to-day potion making.
In Rowling's original notes, she referred to Herbology class at Hogwarts as 'Herbalism." (Pm)
A chestnut wand is attracted to those who are strong in herbology (Pm)
Herbert Beery was Herbology professor when Dumbledore first began as Transfiguration professor (TBB/FFF)
The gardening radio show "Toots, Shoots 'n' Roots" was featured on JKR's Official Site, starring a wizard named Tilden Toots (whose name is a pun for "tilled-in roots"). He was Wizard of the Month along with his wife Daisy Hookum (JKR).
In a 2002 interview with CBS Rowling mentioned a useful old book called Culpeper's Complete Herbal which helped her discover names of plants that sounded "witchy." In it she discovered flaxweed, toadflax, fleewort, goutwort, grommel, knot grass, and mugwort, among others. This famous book is an herbalist's guide published in England by Nicholas Culpeper in 1653.
Commentary
Notes
Some of these plants exist in Muggle folklore but are not necessarily credited with the attributes attributed to them in the Wizarding world.
In some of the video games there is a spell called the Herbivicus Charm that shoots green light and makes plants grow faster (GF/g, DH/g).
Pensieve (Comments)
Tags: healing herbs Neville Remembrall plants trees wand wood