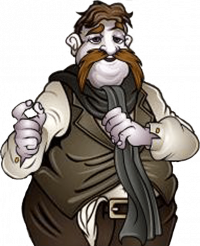 Derwent Shimpling was a comedian known for his boldness; he once ate an entire Venomous Tentacula as a bet. Though he lived, he's still purple. Wizards and witches everywhere love his silly sense of humor and his boldness. (FW).
Skills
Comedy
Other canon notes and references
"Wizard of the Month" on www.jkrowling.com for January, 2005 (JKR).
Derwent Shimpling
Distinguishing Features
Purple face.
Commentary