"May I offer you all an infusion of Gurdyroots? ...We make it ourselves. ...Do sit down and help yourselves to sugar."
-- Xenophilius Lovegood (DH20)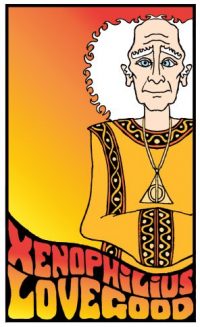 A deep purple drink enjoyed by the Lovegood family (and not many other people).
Xenophilius Lovegood offered this homemade drink to Harry, Ron, and Hermione (DH20).
He stirred several sugar cubes into his cup, although whether this helped the taste is uncertain (DH21).
Luna Lovegood once gave Ron Weasley a gurdyroot after he had been poisoned. It resembled a green onion, and would supposedly protect him from Gulping Plimpies (HBP20).
Commentary
Etymology
"infuse" early 15c., "to pour in, introduce, soak," from Latin infusus
Pensieve (Comments)