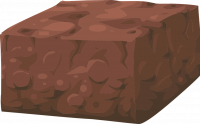 Alihotsy-flavoured fudge is the candy responsible for the allergic reaction that killed Minister for Magic Wilhelmina Tuft in 1959 (Pm).
Eating the leaves of the Alihotsy or "Hyena" tree can cause uncontrollable laughter (Pm: One Thousand and One Magical Herbs and Fungi).
Commentary
Notes
Since Alihotsy causes hysterical laughter, and Wilhelmina Tuft was a "cheery" witch anyway, it's possible that her allergic reaction caused her to laugh herself to death.
From the Web
Pensieve (Comments)
Tags: candy death illnesses and injury sweet