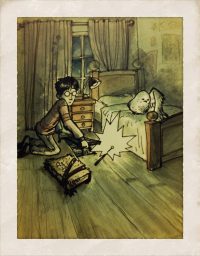 Cake stuffed with various fruits.
Vernon inexplicably tries to hammer shut the mail slot at Number 4 Privet Drive with a piece of Petunia's fruitcake (PS3). Petunia also serves fruitcake with tea to Aunt Marge (PA2)
Hagrid served slabs of it for tea (CS14)
Mrs. Weasley sent Errol the owl to deliver an "enormous fruitcake" to Harry when Dudley was on a diet (GF3). Harry kept the fruitcake hidden under a loose floorboard in his bedroom.
Commentary