"I was lookin' fer a Flesh-Eatin' Slug Repellent...."They're ruinin' the school cabbages.
-- Hagrid's reason for being in Knockturn Alley (CS4)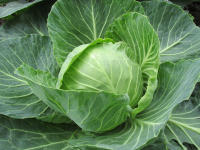 A mundane edible vegetable.
Hagrid maintains a cabbage patch for Hogwarts, presumably to supply the school kitchens. According to Hagrid, flesh-eating slugs have been known to get into them (CS4).
Strangely, the taste of Polyjuice Potion reminded Harry of "overcooked cabbage," but perhaps that was just the essence of Goyle (CS12).
Commentary
Tags: garden vegetables