"I think all this merits a good feast. Might I ask you to go and alert the kitchens?"
-- Albus Dumbledore (CS18)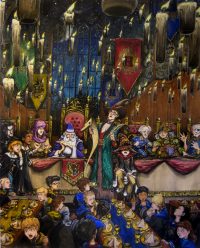 Hogwarts treats its students to large feasts to mark the beginning (PS7, CS5, PA5, GF12, OP11, HBP8) and end of the school term (PS17, PA22, GF37, OP38), plus Halloween (PS10, CS8, PA8, GF16) and Christmas (PS12, CS12, PA11, GF23).
Other
school song is sung (PS7)
Dumbledore's start-of-term welcome speech, introduces new faculty, makes announcements
sorting ceremony
Triwizard Tournament announced in Harry's fourth year (GF12)
Harry and Ron miss it their second year, due to their misadventure with the flying Ford Anglia (CS5).
Food
roast beef
roast chicken
pork chops
lamb chops
sausages
treacle tart
bacon and steak
boiled potatoes
roast potatoes
chips (French fries)
peas
carrots
gravy
puddings (as in "desserts")
ketchup
peppermint humbugs
"[Harry]" had never seen so many things he liked to eat on one table" (PS7)
Hallowe'en (PS10, CS8, PA8, GF16)
decorations:
a thousand live bats
candles in pumpkins
many flaming orange streamers swimming across the ceiling
pumpkins large as garden sheds (PA)
food:
festivities:
the Hallowe'en Feast - evening meal
entertainment
the Goblet chooses the champions (GF16)
Christmas
decorations:
twelve Christmas trees
Christmas ornaments
armor enchanted to sing carols
snow, dry and warm, falling from the enchanted ceiling
for the Yule Ball: walls covered in silver frost, garlands of mistletoe and ivy
festivities:
the Christmas Feast - midday meal
the Yule Ball - from 8 pm until midnight (1994 only)
presents - piled on the foot of their beds when they wake up
Food
turkey
chipolatas
thick rich gravy
cranberry sauce
turkey sandwiches (for tea)
Christmas pudding
crumpets
trifle
Christmas cake
eggnog is served at the staff table
other
McGonagall goes around at the beginning of December having kids sign up who are planning to stay at Hogwarts over the holidays
Commentary
Tags: announcement beginnings celebrations end excitement food