"Off you go, off you go, the bell rang five minutes ago, off to class, now."
-- Percy Weasley, the Prefect (CS13)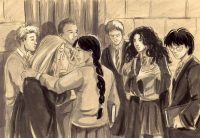 The "booming" Hogwarts bell sounds to indicate the start and end of classes at Hogwarts. It also sounds to indicate the start of break time and to signal when break is over and classes are about to resume (GF13). It is heard in classrooms (CS6, CS10, PA8, PA9, PA10, GF15, GF22, GF29, OP27, OP28, HBP21), in the library (CS9), in the potions dungeon (CS11, CS15, GF22, OP12, OP29, HBP18, HBP22), in the corridors (CS13, OP12), the Great Hall (GF13), Professor McGonagall's office (OP12), the top of the North Tower (OP15), the staff room (OP17), the common rooms (HBP9), the ground floor courtyard where the students take their breaks (OP17, HBP22), and the Hospital wing (OP32). It is audible even in the greenhouses (PS14, GF13) and across the grounds to the edge of the Forest (GF21, GF24, GF28, OP13).
The bell rang early on the day that the representatives from Beauxbatons and Durmstrang were arriving so that the students could bring their school bags to their common rooms and be back outside to welcome the visitors (GF15).
Commentary