"You all know, of course, that Hogwarts was founded over a thousand years ago - the precise date is uncertain - by the four greatest witches and wizards of the age. They built this castle together, far from prying Muggle eyes, for it was an age when magic was feared by common people, and witches and wizards suffered much persecution."  
-- Professor Binns (CS9)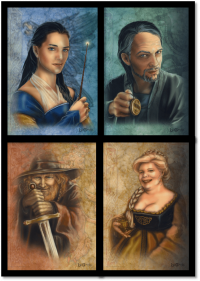 Over a thousand years ago, the four greatest witches and wizards of the age shared a dream, to create a school where young people of the wizarding world could study and be trained in the magical arts they needed to become skilled, fully-trained wizards. These four great witches and wizards were Godric Gryffindor, Rowena Ravenclaw, Salazar Slytherin, and Helga Hufflepuff (CS9).
According to legend, "the location and name of Hogwarts were both chosen by Rowena Ravenclaw, who dreamed that a warty hog was leading her to the cliff by the lake" (JKR-W3).
These four great wizards each founded one of the Houses of the school that they worked together to form: Hogwarts School of Witchcraft and Wizardry. They have been referred to as 'The Hogwarts Four' (CS17).
For a number of years, this arrangement worked just fine. Each of the founders took a group of students to be in their own house and even though they had differences of opinion about who should be trained, the house system helped them all to work together. However, as the years went by, the differences between Gryffindor and Slytherin became a serious rift. Eventually Slytherin left the school (CS9).
The final fate of the four Founders is not known, but the school they founded is still flourishing over a thousand years later.
Commentary
Tags: black blue bronze cooperation differences dreams fights four gold greatness green houses opinion red scarlet schools silver skills students study yellow