"If [Snape] sees you .... How do you open the witch's hump again?"
-- Hermione, volunteering to recover the invisibility cloak Harry had left under the statue (PA16)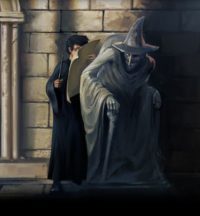 Halfway along a third-floor corridor between the staircase leading from the Entrance Hall and the way to Gryffindor Tower, stands a statue of Gunhilda of Gorsemoor, referred to by the students as "the one-eyed, hump-backed witch." This statue conceals the entrance to a secret passage leading to Honeydukes' cellar (PA10). One opens the secret passage by tapping the statue and saying "Dissendium" (PA10, PA16).
Gunhilda of Gorsemoor was a healer, who lived from 1556 to 1639. She was a one-eyed, hump-backed witch famous for developing a cure for Dragon Pox. When she died, everyone who knew her felt great sorrow, for she was a talented and hardworking healer. She is featured on a Famous Wizards/Chocolate Frogs Card.
Commentary
Etymology
The name "Gunhilda" is Nordic and derives from the elements gunnr, "war," and hildr, "battle."
Notes
The location of the statue is revealed in these quotes:
He turned, halfway along the third-floor corridor, to see Fred and George peering out at him from behind a statue of a humpbacked, one-eyed witch (PA10).

Harry couldn't help noticing that the statue of the one-eyed witch on the third floor remained unguarded and unblocked. It seemed that Fred and George had been right in thinking that they -- and now Harry, Ron, and Hermione -- were the only ones who knew about the hidden passageway within it (PA14).
Pensieve (Comments)