"That's how it is at Hogwarts. Copyin' lines! What good's that ter anyone? Yeh'll do sommat useful or yeh'll get out."
-- Rubeus Hagrid (PS15)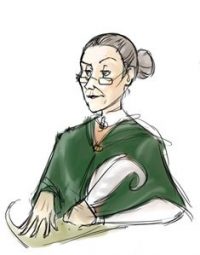 Detention is a form of punishment at Hogwarts in which the student has to carry out an unpleasant task after school hours. Punishments vary according to the nature of the crime. Some infractions result in points being deducted from the offender's House. For other more serious offenses, detentions are handed out, or the staff member speaks to the Head of House (GF13). Teachers may assign detention tasks as they wish and some detentions have been actually dangerous. If a student refuses to accept the detention, they can be expelled. (PS15).
Prefects also have the authority to put students into detention. Ron threatened Seamus with detention once (OP11), and Malfoy did the same with Harry (OP10).
These detentions were handed out in the six years Harry attended Hogwarts.
The threat of detention often leads to different student behavior. There are three different forms this threat works:
The students receive a genuine threat after a certain behavior. For example, Filch threatened detention for students who left dirt on the floor (CS8, CS9, HBP19).
The students think the staff member would surely put them in detention for behaving in a certain way and therefore do not behave like that. Snape did not have to really give his students detention, the perceived threat was enough (CS11, PA1, PA7). Because of this, Harry was set on completing Snape's essay during the summer holidays (PA1).
The students manage to talk themselves out of detention. For example, when Harry and Ron managed to convince McGonagall they were visiting Hermione in stead of going to Myrtle's bathroom (CS16).
Professors McGonagall, Snape and Umbridge handed out most detentions.
Commentary
Etymology
This late Middle English word (in the sense 'withholding of what is claimed or due') stems from the Latin word detinere 'hold back' (Oxford Dictionary).
Pensieve (Comments)