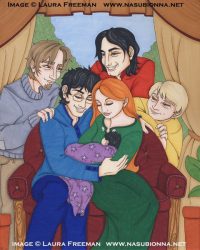 Infants
magic quill at Hogwarts notes the birth of a magical child and his or her name goes on list for Hogwarts
magic not always apparent in a child
can be born a Squib but this might not be known for several for years
can be born to Muggles
Children
Even small children can use wands to create magic, but it's uncontrolled.
Fred and George once turned Ron's teddy bear into a spider (CS9)
Kevin enlarged a slug while playing with his dad's wand, but got in trouble for it (GF7)
play with toys which have limited magic, such as toy brooms that float a little above the ground (GF7)
no "elementary school" specifically for wizarding children; some attend Muggle schools, others are home schooled (WBD)
During Harry's first year, Ginny was not yet old enough to go to Hogwarts, but desperately wanted to (PS6)
a Muggle family will start to realize that there is something unusual about their child if he or she is magical
School age
receive letter before their first year, typically the summer that they're eleven, since they must be 11 years old as of September 1
trained Muggle liaison witches and wizards deliver the letter to Muggle families
begin schooling with little actual magical understanding or ability (Harry found that he was not really far behind when he got there)
sorted, take classes at Hogwarts
are not allowed to use magic outside of school or even in the corridors between classes at Hogwarts
seven years of training
OWLs and career advice in May-June of their fifth year
more specialized classes chosen to help toward their career in sixth and seventh years
NEWTs in June of their seventh year
become "of age" when they turn seventeen, even if they are still in school
All children who are not Squibs are sent invitations to attend Hogwarts, but they don't all accept
It is possible to be expelled from Hogwarts and never finish the training to become "fully qualified wizard"
it is also possible to quit before the full seven years are done
Fred and George left school part way through their seventh year (OP29)
Seamus Finnigan's mother didn't want him to return to Hogwarts for his fifth year (OP11)
Draco Malfoy's father considered sending him to Durmstrang — he didn't say whether this was a decision made before Draco first started or after some years passed (GF11)
Hagrid was expelled from Hogwarts at the end of his third year
NOTE: they do not "graduate" from school, they "leave" school; "high school graduation" is an American phrase
Adulthood
Upon leaving Hogwarts, witches and wizards are considered "fully qualified". This is not the same as being "of age," which is simply a matter of turning 17; seventh year students are often "of age" even though they haven't become fully qualified (OP5).
can apply for a license to Apparate when they turn seventeen and come of age (even if they haven't left school)
take up a vocation
There is no wizard university (Sch1).
Old Age
Wizards can live longer than Muggles.
Dumbledore is about 150 and McGonagall is a "sprightly 70" (Sch2)
Madam Marchbanks is even older, since she tested Dumbledore in his N.E.W.T.s
Commentary