"Kwikspell is an all-new, fail-safe, quick-result, easy-learn course. Hundreds of witches and wizards have benefited from the Kwikspell method!"
-- from the promotional material (CS8)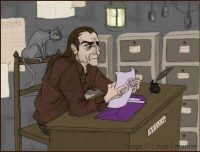 Kwikspell is a company which publishes a correspondence course to train those whose magical ability is low. Kwikspell's course, which is billed as "A Correspondence Course in Beginners' Magic," arrives in a purple envelope with silver lettering. It is recommended by a number of satisfied customers, including Madam Z. Nettles of Topsham and Warlock D. J. Prod of Didsbury. The cover letter promises that Kwikspell is an all-new, fail-safe, quick-result, easy-learn course and that hundreds of folks have achieved great results from it. Lesson One consists of "Holding Your Wand (Some Useful Tips)."
Of course, if a person were truly and completely devoid of magical powers, no training in the world is going to teach them to do magic. The Kwikspell course is clearly aimed at those whose magical abilities are unusually low, but not completely absent (or at least, those who would like to believe that that is the case). For a person born into a Wizarding family who has no magical ability, life can be difficult indeed. Some of these people, called Squibs by others in the magical world, turn for help to the Kwikspell correspondence course (JKR-W3).
Filch, the caretaker, is a Squib. He sent for and received the Kwikspell course in October of 1992 (CS8).
The Kwikspell Company also produces a study course for the W.O.M.B.A.T Examination called the Wallop the Wombat Revision Course. This is recommended to those who achieve only a Poor on the Grade 3 test (JKR-W3).
The letter from Kwikspell that Harry Potter reads, belonging to Argus Filch (CS8):
Kwikspell
---
A Correspondence Course in Beginners' Magic
Feel out of step in the world of modern magic? Find yourself making excuses not to perform simple spells? Ever been taunted for your woeful wandwork?
There is an answer!
 
Kwikspell is an all-new, fail-safe, quick-result, easy-learn course. Hundreds of witches and wizards have benefited from the Kwikspell method!
 
Madam Z. Nettles of Topsham writes:
"I had no memory for incantations and my potions were a family joke! Now, after a Kwikspell course, I am the center of attention at parties and friends beg for the recipe of my Scintillation Solution!"
 
Warlock D. J. Prod of Didsbury says:
"My wife used to sneer at my feeble charms, but one month into your fabulous Kwikspell course and I succeeded in turning her into a yak! Thank you, Kwikspell!
Commentary
Etymology
"Kwik" is a Dutch spelling of the English word, "quick." This implies that "Kwikspell" means "Quickspell" as in a way to learn spells (magic) quickly.
Pensieve (Comments)
Tags: course help learning letters magical ability powers purple results silver skills study