"Food is one of the first of five Principal Exceptions to Gamp's Law of Elemental Transfigur— ... It's impossible to make good food out of nothing! You can Summon it if you know where it is, you can transform it, you can increase the quantity if you've already got some—"
-- Hermione Granger to Ron Weasley (DH15).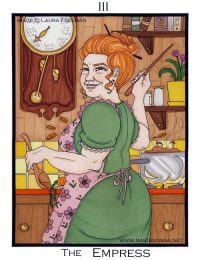 Gamp's Law of Elemental Transfiguration is a fundamental property of magic which identifies what can be conjured and what cannot. Generally speaking, this axiom states that one cannot create something from nothing.
There are five exceptions to Gamp's Law (DH15).
 One of the exceptions is food, which cannot be "made from thin air," but has to be summoned from elsewhere, as when McGonagall conjured a neverending platter of sandwiches to Snape's office from the Hogwarts kitchens (CS5); increased, as Hagrid did by using the Engorgement Charm on pumpkins (CS7); or transformed as Molly Weasley did when cooking (OP5). This also explains why the Room of Requirement would not provide food to Dumbledore's Army, so they had to get meals from Aberforth at the Hog's Head (DH29).
Commentary
Etymology
Possibly named for a relative of Ulick Gamp, Head of the Wizengamot before being elected the first Minister for Magic from 1707-1718. During his time in office, the Wizarding World first imposed the International Statute of Secrecy.
Notes
We can take a guess at a few of the other exceptions to Gamp's law. These are just suggestions and educated speculations:
Gamp's Law seems to be a scientific axiom rather than a law passed by the Wizarding government, although this is never specifically stated.
Pensieve (Comments)