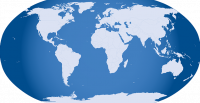 International Magical Governments are found worldwide.
Other countries have similar governing bodies to Great Britain. Bulgaria, for example, has its own Ministry of Magic, the Minister of which, Mr. Oblansk, sat in the Top Box to watch the World Cup Final in 1994 (GF8). There is also a Ministry of Magic in Norway (QA3) and several other countries.
All of these governmental organisations have signed the International Statute of Wizarding Secrecy of 1692 which set down many requirements for individual countries to keep the Muggles unaware of the wizarding world. This requires the Ministries of each country to monitor activities such as Quidditch and to protect and hide the various magical beasts which live within their borders (FB, QA).
Cooperative governing bodies
International Confederation of Wizards (ICW) (PS4, GF17, GF18, OP5, OP31, FB, Pm)
Also mentioned in canon are:
Most likely these are three different names for the same governing body.
Ministries of Magic
Andorra (GF28)
Argentina – known as the Argentinian Council of Magic (Pm)
Bangladesh (QA8)
Burkina Faso (FB, Pm)
Bulgaria (GF8)
France (Pm)
Germany (FB)
India (QA8)
Iran (QA8)
Japan (Pm)
Liechtenstein (Pm)
Mongolia (QA8)
New Zealand (QA8)
Norway (QA3)
Pakistan (QA8)
United Kingdom of Great Britain and Northern Ireland (OP7)
United States of America – known as the Magical Congress of the United States of America (MACUSA) (WFT, Pm)
Miscellaneous Government Bodies
a subcommittee of Sardinian sorcerers (CS9)
Transylvanians are to sign the International Ban on Duelling (GF23)
Commentary
From the Web
Writing from J K Rowling on Pottermore:
Pottermore features:
Pensieve (Comments)
Tags: control cooperation government international laws leaders leadership legislation powers rules secrecy Wizarding laws