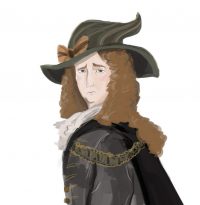 Albert Boot was the fifth Minister for Magic, in office 1747-1752. He couldn't handle a goblin rebellion and resigned (Pm).
Albert Boot
Distinguishing Features
Overwhelmed by goblin rebellion
Commentary
Notes
It is likely that Albert Boot is a direct descendant of Webster Boot. Webster was a seventeenth century Auror for hire living in America that fell in love with a Scottish witch and subsequently moved across the Atlantic to live with her. Since Webster's parents lived in Britain before they moved to America, Webster had returned the Boot family to their home country. Webster's descendants were educated at Hogwarts — Albert probably among them (Pm).
Pensieve (Comments)
Tags: failure Ministry staff