"Harry, did you ever even open A History of Magic?"
"Erm ... I might've opened it, you know, when I bought it ... just the once ..."
--Hermione and Harry (DH16)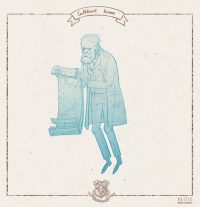 One of the most famous wizarding books, a standard reference published in 1947 by Little Red Books.
This is a required textbook for first-years (PS5), and appears to be used by second- and third-years as well in History of Magic (PA1). It does not cover anything later than the end of the nineteenth century (DH16).
Not one of the textbooks that Harry had read most attentively (DH8). He said he opened it once, when he got it, and since he said he got the name for his owl from the book, that may have been that one time:
Harry kept to his room, with his new owl for company. He had decided to call her Hedwig, a name he had found in A History of Magic (PS6).
A few pages of A History of Magic were scattered over the floor of Sirius's bedroom in Grimmauld Place after it had been searched by Snape (DH10).
Commentary