"Bathilda must've been dead a while. The snake was...was inside her.  You-Know-Who put it there in Godric's Hollow, to wait.  You were right. He knew I'd go back."
--Harry Potter (DH17)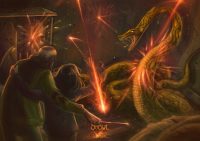 Harry and Hermione, in disguise as an elderly Muggle couple, encounter who they think is Bathilda Bagshot in Godric's Hollow on Christmas Eve. They follow her to her house, where she is revealed to be Nagini. In the ensuing battle, Hermione's quick thinking saves the day, but Harry's wand is broken.
Nagini in Bathilda Bagshot's house
Type of Event
Wizarding world
Commentary
Notes
Samuel Taylor Coleridge's unfinished poem "Christabel" is a possible influence on this episode. -BB
Pensieve (Comments)
Tags: attacks broken wands danger disguises fake