"Go home then." "Yeah, maybe I will!"
--Harry and Ron during their falling out (DH15)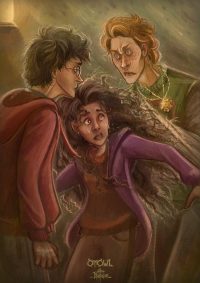 Ron, affected by the Horcrux locket, accuses Harry of not knowing what he's doing, loses his temper, and leaves (DH15).
Timeline Notes
We have no specific dates to attach to this event, but we do know that it happened in the autumn of 1997.
Ron leaves the quest
Type of Event
Wizarding world
Commentary
Notes
One possible influence on the whole camping portion of DH, including the trio's interactions and the influence of the locket, is the 1999 horror film The Blair Witch Project, which is about three young people who spend night after night in a tent in the woods while trying to reach safety and having extremely intense interpersonal conflicts - all while under the shadow of (what can at least be interpreted as) an evil magical force or presence of some sort. -BB
Pensieve (Comments)
Tags: anger betrayal influence On the run from Death Eaters separation temper