"Oh good, now you can give that graffitied copy back."
-- Hermione Granger (HBP11)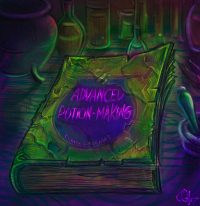 Advanced Potion-Making is a potions textbook used at Hogwarts in the 1990s.
It is the N.E.W.T. level set text for Potions during Harry Potter's sixth year (HBP9) and cost nine Galleons brand-new (HBP11). The book was originally written around the year 1946 (HBP16) and contains instructions for making the Draught of Living Death starting at page 10 (HBP9).
Other contents include:
Harry was given the Half-Blood Prince's copy of the book to use at the start of term by Professor Slughorn, which had additional handwritten instructions and spells (HBP9).
Commentary
Etymology
The author's first name is likely a play on the word 'libation' meaning a drink, particularly one drunk or given as part of a ceremony or ritual. Borage is a type of herb.
Pensieve (Comments)