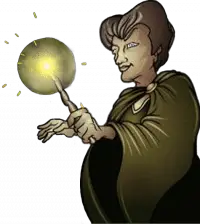 Artemisia Lufkin was the first witch to become Minister of Magic, serving from 1798 to 1811 (JKR). Lufkin established the Department of International Magical Cooperation and lobbied hard and successfully to have a Quidditch World Cup tournament held in Britain during her term in office (Pm).
Artemisia Lufkin
School
Hogwarts - Hufflepuff
Profession
Minister of Magic
Commentary
Etymology
Artemisia=a large family of herbs with common names like Wormwood, Mugwort, Absinthe, Tarragon and Sagewort. It may also refer to Artemisia Gentelleschi (1593–c.1653), an Italian painter influenced by Caravaggio. She is famous for a ferocious painting of Judith beheading Holofernes, and worked for a while in England, in the Court of Charles I.
Notes
Lufkin was JKR's "Wizard of the Month" for February 2005 (JKR).
The Quidditch World Cup she managed to bring to Britain during her term in office would have been either the 1801 or the 1805 tournament. She was in office for the 1801 QWC, but had only been so for a couple of years, so it is perhaps more likely that it would have been the 1805 QWC which came to Britain. World Cup events are planned years in advance, so this would allow some years for her to lobby for Britain to play host.
Pensieve (Comments)