"Whatever it is, one thing's clear -- it must be stopped. It's terrorizing No-Majs and when No-Majs are afraid, they attack. This could mean exposure."
-- Seraphina Picquery (WFT)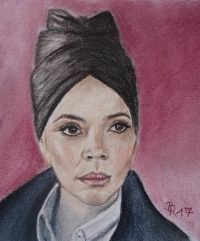 Seraphina Picquery was a highly accomplished American witch who served as President of the Magical Congress of the United States of America from 1920 to 1928 (Pm). Piquery was already a gifted witch during her years at Ilvermorny. She was one of the few incoming students at that school which were chosen by all four houses. As President, she was a strong, capable leader who dealt efficiently with the disruption caused by the Obscurus and by Newt Scamander's escaped magical creatures (WFT).
Picquery was meeting with top aurors in the Major Investigation Department when Tina Goldstein first brought Newt Scamander to MACUSA headquarters. Picquery was short with Tina and told her to leave (WFT).
Picquery was in the Pentagram Office with international representatives following Senator Shaw's death when Tina barged in again. When Newt said that an Obscurus was responsible for Senator Shaw's death, Picquery told him that America had no Obscurial. She then ordered that Newt's case be impounded and that Newt, Tina, and Jacob be arrested (WFT).
Picquery ordered aurors to contain the Obscurus causing destruction in New York City. She later ordered them to kill the Obscurial, Credence Barebone (WFT).
Picquery apologized to Newt after it became clear that she was wrong to have had him arrested. She thanked him after he and Frank the Thunderbird recover the secrecy of New York's wizarding community, then tells him to get his case out of New York (WFT).
After the episode with Grindelwald and the Obscurus, Picquery allowed tina back onto the investigative team. Tina attributed this to Newt having sung her praises to the president (WFT).
Picquery kept Grindelwald prisoner in a cell at MACUSA Headquarters for six months, protected by many spells and a dangerous Chupacabra. One night an entourage arrived to take custody of him, led by Rudolph Spielman. Picquery let them take Grindelwald away in a Thestral-drawn carriage guarded by Aurors on broomstick. But she was unaware that a traitor in MACUSA had switched places with the evil fiend and he proceeded to help Grindelwald escape before they had even crossed the Hudson River. She also seems to have been unaware that Grindelwald's wand was the legendary Elder Wand, giving him ultimate power over Aurors and ordinary wizards. (CG)
Skills
Strong, capable leader
Other canon notes and references
A portrait of Picquery hung in the MACUSA lobby (WFT).
Seraphina Picquery
Other Names
Madam Picquery
Distinguishing Features
"majestic-looking"
Wand
Rougarou hair-core wand, swamp mayhaw wood, made by Violetta Beauvais
School
Ilvermorny - Horned Serpent
Profession
President of MACUSA in the 1920s
Commentary
Etymology
Seraphina: from seraphim, an order of angels in the Bible. Seraphim's original meaning in Hebrew was "fiery ones" (source: Behind the Name).
Pensieve (Comments)
Tags: authority escapes government leaders leadership politicians politics strength strong