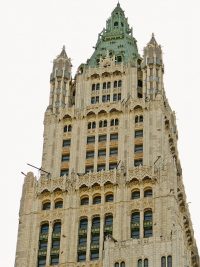 After the Great Sasquatch Rebellion of 1892, MACUSA was relocated to New York (Pm:History of Magic in North America).
When the Woolworth Building was being built between 1910-1912, the construction site was infiltrated by wizards who concealed a secret space for their use that could be opened using spells. Thus it became the location of the headquarters of MACUSA where it remained through at least the 1920s (Pm: MACUSA).
Commentary
Notes
The Woolworth Building is a real building, located at 233 Broadway in Manhattan, New York City.  At 241 meters (792 feet) tall, it held the record for tallest building in the world from 1913 through 1930 when the record was surpassed by the Bank of Manhattan Trust Building (now known as The Trump Building).
Pensieve (Comments)