I know what that woman did to you . . . I know that you've suffered . . . you need to stop this now . . . Newt and I will protect you . . .
-- Tina Goldstein to Credence Barebone (WFT)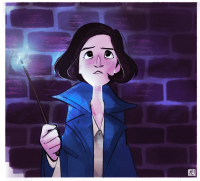 Porpentina "Tina" Goldstein was a witch who worked as an Auror for the MACUSA in 1920s New York. Tina was temporarily removed from her position as an Auror after attacking a No-Maj who was beating her young adult son. After this incident she was assigned as a Federal Wand Permit Officer until events involving Newt Scamander and a rampaging Obscurus proved her abilities and she was reinstated as an Auror. (WFT).
After Newt returned to England Tina read an erroneous account of the upcoming marriage between Theseus Scamander and Leta Lestrange, believing that it was Newt and Leta who were to be married. She broke of her relationship with Newt and went to Paris in search of Credence where she met Yusuf Kama, a wizard bent on killing Credence, but Newt and Jacob rescued her from Kama. Tina then went to the French Ministry of Magic in search of documents to prove Credence's identity. No sooner had Newt convinced Tina that he was not engaged to Leta when Leta appears at the archives. Before long they are all at Grindelwald's rally where the Aurors and the Grindelwald faction fight it out. Leta's attack on Grindelwald gives Tina, Newt, Kama, Nagina, Theseus and Jacob a chance to escape and unite with Nicolas Flamel to extinguish Grinderwald's fire and save Paris. (CG)
Tina became the wife of Newt Scamander; she and Newt retired to Dorset. They have three Kneazles, named 'Hoppy,' 'Miller,' and 'Mauler' (FB vi).
Tina was nearly executed at MACUSA due to the mistaken belief that she had helped Newt Scamander unleash an Obscurus on New York City. In the execution room, a happy memory of childhood with her mother appeared in the giant Pensieve. She was saved from death at the last minute by Newt's creature called a Swooping Evil (WFT).
She lost her job as an Auror when she rushed to save Credence Barebone from his abusive mother, Mary Lou at Second Salem Church. Later she and Newt both tried to help the tormented Credence by reaching out to him with empathy and understanding, but were thwarted by Gellert Grindelwald disguised as Auror Percival Graves (WFT).
Family
Siblings: Tina has a younger sister named Queenie.
Spouse: Newt Scamander, famous magizoologist and author.
Children: Tina and Newt have at least one son.
Grandchildren: Rolf Scamander, who married Luna Lovegood. They have twin sons, Lorcan and Lysander Scamander.
Tina and Queenie's parents died of Dragon Pox when the girls were young. The sisters raised each other.
Porpentina Esther Scamander (née Goldstein)
School
Ilvermorny - Thunderbird
Profession
MACUSA Auror, Federal Wand Permit Officer
Commentary
Etymology
"Porpentine" is an outdated form of the word "porcupine" (source: Merriam Webster).
Notes
"Tina is very soulful. She has a lot of heart and strength and courage."
-- Katherine Waterston ("Tina Goldstein")
"So you have two sisters who have raised each other and who have a very deep bond."
-- Alison Sudol ("Queenie Goldstein")
'Well,' [Costume Designer Colleen Atwood] says. 'Tina had been an Auror. She's fallen out of that world but I still wanted her to have the feeling of that world. So I gave her an overcoat that's a little bit loose like an Auror's coat, but made of more ordinary fabric, as though she'd downgraded from that spectacular leather silhouette of the Aurors. Right from the start, I saw her in soft, cooler colours and warm greys, those sort of tonalities.'
That lovely almost-masculine elegance is deliberate, too. And makes perfect sense as you get to know Tina's endearing pragmatism a little better. -- Pottermore
Tina's middle name and date of birth are found on the ID created as a prop for the film. The artists who created this prop stated in an interview that the dates were given to them by Rowling herself, so we are including them as canon.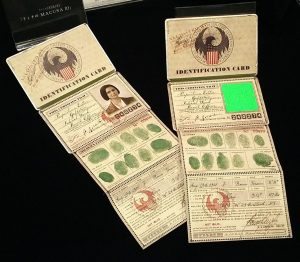 Save
Save
Save
Save
Save
Pensieve (Comments)