"Aw, don't worry, honey. Most guys think what you was thinking, first time they see me."
-- Queenie Goldstein (WFT)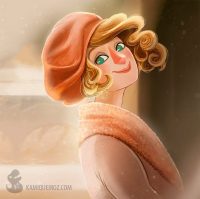 Queenie Goldstein is the beautiful younger sister of Porpentina "Tina" Goldstein (JKR:Tw). The two shared an apartment in New York City in the 1920s (WFT). Both Queenie and her sister attended Ilvermorny School for Witches and Wizards, though they were in different houses (Queenie was in Pukwudgie while Tina was in Thunderbird). Their parents died from Dragon Pox.
Queenie worked at MACUSA as an unglamorous  secretary, making coffee and "unjinxing" the bathrooms (WFT). But Queenie's real gift was the ability to read minds with little effort, making her a gifted Legilimens.
Queenie had an instant connection with No-Maj Jacob Kowalski, who visited her apartment with Newt Scamander after he was bitten by a Murtlap. He liked her cooking, especially the magical apple strudel since he was a baker himself, and found it fascinating that she could read his thoughts with Legilimency. Jacob was the first No-Maj Queenie ever met due to Rappaport's Law separating witches and wizards from ordinary humans. +In spite of the danger in their friendship, Queenie and Jacob had a sweet romance in the middle of an Obscurial attack on New York City which ended with Jacob being Obliviated with Swooping Evil venom. However, after Jacob opened his bakery, Queenie paid him a visit, perhaps in the hopes that they could strike up a relationship once again. (WFT)
The memory modification apparently did not last as Jacob and Queenie became a couple again. While Jacob did not want to marry Queenie due to the ramifications of breaking the Wizarding law regarding marriages to non-wizard folk, Queenie was adamant that they do marry and bewitched Jacob to make him change his mind. While visiting Newt Scamander the spell was revealed and after a fight the pair parted. While Jacob went adventuring with Newt, Queenie fell under the spell of Gellert Grindelwald and left Jacob behind. (CG)
Skills
Queenie is a Legilimens with the ability to read people's thoughts. She enjoys cooking and can conjure up an amazing meal.
Other canon notes and references
@MaddieDUHx Queenie's younger.
— J.K. Rowling (@jk_rowling) June 4, 2015
Save
Save
Save
Save
Save
Save
Save
Queenie Goldstein
Distinguishing Features
"the most beautiful girl to ever don witch's robes" - Likes to call people "honey"
School
Ilvermorny - Puckwidgie
Profession
MACUSA employee
Commentary
Notes
"Tina is very soulful. She has a lot of heart and strength and courage."
-- Katherine Waterston ("Tina Goldstein")
"So you have two sisters who have raised each other and who have a very deep bond."
-- Alison Sudol ("Queenie Goldstein")
According to Queenie's ID card, a prop created for the film by MinaLima, Queenie was born on January 6, 1903. Most facts found on these props are verified as coming from Rowling herself, so these facts about Queenie are included here. However, the card indicates her occupation as Federal Wand Permit Officer which does not seem to match her statement in the script as being a fairly low-level gofer making coffee and cleaning the toilets, so either she was intentionally downplaying her importance when talking about herself or that part of the card is not from Rowling. The card doesn't list her blood status, but Tina's card lists her (and therefore Queenie) as Half-blood.
From the Web
Pensieve (Comments)
Tags: beauty/beautiful dating love mind orphans romance siblings sisters