"You've got a big price on your head, Mr. Scamander. Why should I help you instead of turning you in?"
-- Gnarlak (WFT)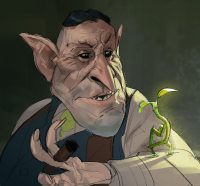 They hope to get information from the notorious underworld goblin about the whereabouts of Newt's missing Demiguise. The meeting is broken up by MACUSA Aurors Apparating into the bar.
Timeline Notes
The script says that this happens at night. The previous scene is "Dusk," so we might assume that this is taking place in the early evening of December 7.
Tina, Newt, Queenie, and Jacob meet Gnarlak at the Blind Pig
Date
evening December 7th, 1926
Certainty
Inferred from canon
Type of Event
Wizarding world
Commentary