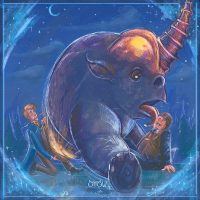 Newt and Jacob follow the trail of destruction left behind by the Erumpent into the Central Park Zoo, where they manage to distract it from trying to mate with a very frightened hippo. The Erumpent turns its attention toward Newt, who performs a very interesting mating dance, but then discovers Jacob, who is holding a vial of Erumpent musk. The resulting chase across Central Park ends on a frozen pond with the Erumpent sliding around and falling into Newt's open case.
Hunt for the Erumpent in Central Park
Date
late December 6th, 1926
Certainty
Reasonable guess
Type of Event
Wizarding world
Commentary
Notes
The weather on December 6, 1926 does fit the description in the script for the film:
12-6-1926
Weather Station at: New York-Central Park Area, NY
Highest Temperature: 22 °F         Rain/Precip: 0.00"
Average Temperature: 17.5 °F      Snowfall: 0.0"
Lowest Temperature: 13 °F           Snow on Ground: 7"
Source: http://mrcc.isws.illinois.edu/CLIMATE/birthday/newbirthday2.jsp
Pensieve (Comments)