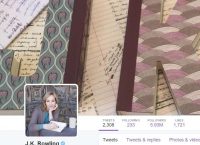 J.K. Rowling's Twitter account, where she interacts with fans and posts on things she's passionate about.
Interesting facts and notes
.@HotmHayles @lankytwat Moaning Myrtle's full name was Myrtle Elizabeth Warren.
— J.K. Rowling (@jk_rowling) May 11, 2015
 Nothing to do with the United States Elizabeth Warren I hasten to add! 'Elizabeth' is just one of those classic British middle names.
— J.K. Rowling (@jk_rowling) May 11, 2015
When asked if she knew the name all along, Rowling replied that she always knew "Warren" was Myrtle's last name, but picked Elizabeth instantaneously when thinking of a "good middle name of the period." Rowling joked: "the moment I'd committed myself, I thought: uh oh :)".
Arbin Gordon[email protected] Aug 8
@jk_rowling Is the Magical Congress of the United States of America a two party system similar to the muggle congress?
J.K. Rowling[email protected]_rowling  Aug 8
.@PauliePoBoy No, it's a single body.
12 GRIMMAULD PLACE
- A Black ancestor coveted the house, 'persuaded' the Muggle occupant to leave and put appropriate spells on it.[https://twitter.com/jk_rowling/status/563635069102080000]
AMERICAN SCHOOL
- Salem Witches' Institute is a play on the WI, NOT the American school [https://twitter.com/jk_rowling/status/607275327111458816]
- School is not in New York [https://twitter.com/jk_rowling/status/607277795543273472]
- There is some kind of relation with Native American magic [https://twitter.com/jk_rowling/status/607455436581806081] important in founding [https://twitter.com/jk_rowling/status/607458078427082752]
- Name of school is of immigrant origin [https://twitter.com/jk_rowling/status/607457246637912064] Has house system [https://twitter.com/jk_rowling/status/622164892016078848]
CURSED CHILD
- Not a prequel [https://twitter.com/jk_rowling/status/614336035712073728]
- Untold part of Harry's story [https://twitter.com/jk_rowling/status/614337589886238720]
- Written by Jack Thorne but should be considered canon because it was developed with J.K. Rowling. [https://twitter.com/jk_rowling/status/615498601809211393]
VERNON DURSLEY
- Loves Top Gear [https://twitter.com/jk_rowling/status/622155949848023040] only paid license fee because he watched it and called for Jeremy Clarkson's reinstatement [https://twitter.com/jk_rowling/status/622157481582698496]
FB MOVIE
- Set in New York for the length of the whole movie? [https://twitter.com/jk_rowling/status/519595139673497600]
FLOURISH AND BLOTTS
- Located halfway down Diagon Alley on the left-hand side [https://twitter.com/jk_rowling/status/630391064881459200]
FLUFFY
- after the Battle of Hogwarts, was repatriated to Greece [https://twitter.com/jk_rowling/status/563634348524843008]
ANTHONY GOLDSTEIN
- was Jewish Ravenclaw [https://twitter.com/jk_rowling/status/544946669448867841]
RUBEUS HAGRID
- Could not produce a Patronus [https://twitter.com/jk_rowling/status/634666242943655936]
HOGWARTS
- Attending Hogwarts is free, cost covered by MoM [https://twitter.com/jk_rowling/status/622118373061709824]
- Safe place for LGBT students [https://twitter.com/jk_rowling/status/544998416414412801]
- Hufflepuff hourglass has diamonds [https://twitter.com/jk_rowling/status/459683482575572992]
LUNA LOVEGOOD
- Birthday 13th Feb [https://twitter.com/jk_rowling/status/622008983000363008]
TEDDY LUPIN
- Harry didn't name his children Remus, so Teddy could name his own son after him. [https://twitter.com/jk_rowling/status/606878809829310464]
- Hufflepuff, Head boy, 'disappointed' when James S Potter was sorted into Gryffindor [https://twitter.com/jk_rowling/status/638778021663666176]
MAGICAL CONGRESS OF THE UNITED STATES
- single body [https://twitter.com/jk_rowling/status/630123670585909249]
MOANING MYRTLE
- full name Myrtle Elizabeth Warren [https://twitter.com/jk_rowling/status/597730858808782848]
PATRONUS
- Your Patronus only changes form for eternal, unending love. [https://twitter.com/jk_rowling/status/601377849744990208]
PETER PETTIGREW
- Sorted into Gryffindor for who he could have been, but he deviated further and further from this. [https://twitter.com/jk_rowling/status/622009919747792896]
RESURRECTION STONE
- The crack was irreparable. Only Dumbledore could extract the soul piece but leave the original charm intact. [https://twitter.com/jk_rowling/status/563737784754896896]
PORPENTINA SCAMANDER (NEE GOLDSTEIN)
- nicknamed Tina [https://twitter.com/jk_rowling/status/606360820428193792]
- younger sister Queenie [https://twitter.com/jk_rowling/status/606362972550795264]
- Surname Goldstein, distant relation of Anthony [https://twitter.com/jk_rowling/status/630391064881459200]
FRED WEASLEY
- Born first of the twins [https://twitter.com/jk_rowling/status/602105708511961091]
Commentary