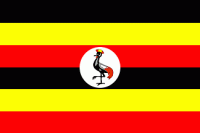 Uganda is a country in Africa. It is the home of Uagadou, the largest wizarding school in the world, located in the Mountains of the Moon (Pm, JKR:Tw).
Uganda are the premier Quidditch-playing nation in Africa, and the Ugandan National team participates in Quidditch World Cup tournaments. Six members of the Patonga Proudsticks professional team were included on a Quidditch World Cup side – the most from one single professional team. Their national team also defeated Wales in the 1994 World Cup competition, but were knocked out before the final (QA8, GF5).
Commentary
Notes
Uganda is a small, mostly tropical country in eastern Africa, with borders that include the Democratic Republic of Congo and Lake Victoria. It was once under British rule but has now been independent for forty years. Its Wikipedia page does not note any wizarding activity (Wikipedia).
From the Web
Writing by J K Rowling:
Pottermore features:
Harry Potter Wikia: Uganda
Pensieve (Comments)
Tags: education international places Quidditch history schools