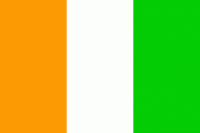 A country in Africa.
The National Quidditch side of Ivory Coast was among the finalists playing in the 2014 Quidditch World Cup (Pm).
Commentary
From the Web
The Republic of Côte d'Ivoire is a country in West Africa. While it's capital city is officially Yamoussoukro, the largest city and economic capital is the port of Abidjan (Wikipedia).
Pensieve (Comments)