"You may not want to believe everything he tells you about Hogwarts. He likes a laugh, your brother."
--Ginny Weasley (CC1.1)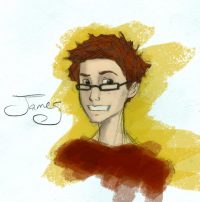 James Sirius Potter is the eldest child of Harry Potter and Ginny Weasley (DH/e). James started attending Hogwarts on 1st September 2015 and was sorted into Gryffindor (JKR:Tw).
Along with his father and brother he visited the Bulgarian encampment at the 2014 Quidditch World Cup and was in the VIP box for the final match between Bulgaria and Brazil (Pm).
James likes a joke and he teases his brother Albus whenever he can get away with it (CC1). Before the start of his sixth year at Hogwarts he is given his father's Invisibility Cloak as a pre-school gift, which he wants to use in order to hide the pink hair caused by a prank comb that was his Uncle Ron Weasley's gift (CC1).
James Sirius Potter
Birthday
Between 2 September 2003 and 1 September 2004
School
Hogwarts - Gryffindor Hogwarts - Student
Commentary
Etymology
Named after James Potter and Sirius Black.
Pensieve (Comments)