"Very good, Potter. Now turn around, nice and slowly, and give that to me." - Lucius Malfoy (OP34)
OP
34 — The Department of Mysteries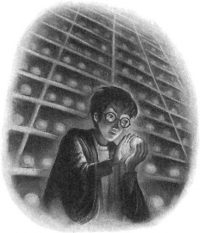 Harry, Ron, Hermione, Neville, Ginny, and Luna fly to London on thestrals, they are allowed access to the Ministry of Magic through the telephone booth, and they enter the Department of Mysteries – specifically the room containing small glass spheres, one of which is marked with Harry's name, and is later discovered to be a prophecy.
Calendar and Dates
The entire chapter takes place on a Thursday, the final day of O.W.L.s. See OP31.
Interesting facts and notes
Still to come....
Exceptional character moments
Still to come....
Memorable lines
"We're here to save someone, unless your Ministry can do it first!"
And then, from right behind them, a drawling voice said, "Very good, Potter. Now turn around, nice and slowly, and give that to me."
Words and phrases
Commentary
Pensieve (Comments)
Tags: badge black blue brains coins cold corridor dangerous dark doors dreams dust eggs fast fire flying furious gold golden green hot knife light lost metals mountains nervous orange prophecy purple red relief running scar scared screaming security sick silver stars stone telephone torture veil voice warm water wings yellow