"...to have been loved so deeply, even though the person who loved us is gone, will give us some protection forever."
-- Albus Dumbledore (PS17)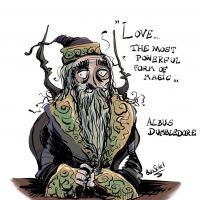 Love is perhaps the most powerful ancient enchantment, with the potential to counteract the Dark Arts and transform lives.
References from the canon
Commentary
Notes
Rowling makes it clear that love is not always a pure force for good. The Bloody Baron killed the object of his affections, the Gray Lady of Ravenclaw, then killed himself out of remorse, turning them both into ghosts forever (DH31). Bellatrix Lestrange loved Voldemort in the manner of a twisted obsession, especially considering that she still had a husband, and she was willing to sacrifice her own nephew, Draco, for the Dark Lord (HBP2, BLC). Dumbledore's short-lived infatuation with Gellert Grindelwald led to the tragic death of Arianna Dumbledore, and long-term problems between Albus and his brother Aberforth (DH28, DH35).
And while Wizards may use love potions for research at the Department of Mysteries, they do not produce real or long-lasting love (HBP9). Merope Gaunt tricked the Muggle Tom Riddle into marrying her with a love potion, but he was quick to abandon both her and her unborn son when he found out the truth (HBP13). With love, there are no shortcuts or substitutes for the real thing.
From the Web
Pensieve (Comments)
Tags: force friendship heart love motherly love powerful soul transform unrequited love