"Goldstein!  Did you just butt in on the Investigative Team again?"
--Abernathy (WFT)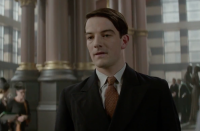 Abernathy was Tina Goldstein's pompous boss in the wand permit office at MACUSA headquarters (WFT).
While he is condescending to Tina, Abernathy is cowed by important superiors, like Graves, and gets nervous around pretty girls, like Queenie (WFT).
When Gellert Grindelwald was being held in a cell at MACUSA Headquarters, Abernathy switched allegiance to him, then switched places with him . So when Rudolph Spielman and other Aurors arrived from Europe in 1927 to take custody of Grindelwald, it was actually a transformed Abernathy in the cell with his tongue removed. Grindelwald was walking around free as "Fake Abernathy," giving Spielman Grindelwald's magical vial and wand box while secretly keeping the Elder Wand.
Spielman and others put the prisoner (real Abernathy) in a Thestral-drawn carriage to start back across the ocean, but Grindelwald/FakeAbernathy used the Elder Wand to apparate and attach himself to the bottom of the carriage, catching the Aurors off-guard, and getting rid of them one by one. Inside the carriage, Antonio the Chupacabra jumped out of his hiding place inside the wand box and attacked Spielman on his throat, while the still-chained Abernathy caught the vial in his teeth. When Grindelwald reappeared inside the carriage, he rewarded Abernathy with a new reptilian forked-tongue, then he pushed Spielman and Antonio into the dark Atlantic while he and his servant escaped.
In Paris, Abernathy became a trusted henchman of Grindelwald, transforming into a "genteel elderly lady" to retrieve an ornate box from the French Ministry of Magic. Later he and another acolyte named Macduff planted the box at the Lestrange Mausoleum in the Pere Lachaise Cemetery in order to lure Credence Barebone.
Abernathy
Distinguishing Features
A forked tongue given to him by his Master Grindelwald
Profession
MACUSA employee, then servant of Grindelwald
Commentary
Notes
According to "Fantastic Beasts: The Crimes of Grindelwald: Movie Magic" by Jody Revensen, Abernathy's wand "is ebony and is separated from the shaft by a silver cuff."
From the Web
Pensieve (Comments)
Tags: disguises escapes government