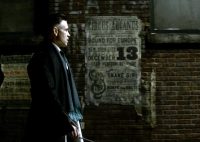 The Circus Arcanus is a travelling circus which displays human oddities. The owner of the circus is a wizard named Skender. The Circus visited New York City at the beginning of December 1926, which coincided with Newt Scamander and Aurors from MACUSA capturing Gellert Grindelwald. In fact, Graves is seen looking at a poster for the Circus Arcanus while walking the New York streets (WFT).
The Circus Arcanus was scheduled to travel next to Europe. Upon arrival in Paris, France, the circus, consisting of several tents around a big top, was set up in Place Cacheé.  During a showing of the Maledictus, Nagini, the girl strikes out at the abusive ringmaster. Credence releases the caged Firedrakes and they set the circus ablaze. Proclaiming "Paris is done for us now." the ringmaster rapidly and magically packs up what is left and departs (CG).

Commentary
Notes
Costume designer Colleen Atwood thought of the Circus Arcanus as "less of a circus and more of a rough kind of freak show." She reflected this in poorly designed costumes "shredded and falling apart" but with "a little bit of cheap sparkle to them" and the performers who wore them "all had a sadness to them." It was not a happy circus.
"The Archive of Magic: The Film Wizardry of Fantastic Beasts: The Crimes of Grindelwald" - Signe Bergstrom.
Pensieve (Comments)