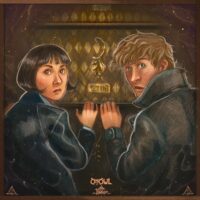 Place Cachée is the Parisian version of London's Diagon Alley.  Unlike Diagon Alley which is a separate entity, Place Cachée is two places in one. Non-Magiques see it as a normal street in Paris while the wizarding street, which takes up the same space, is accessed through a tall stone base under a bronzed statue of a robed woman that comes to life and lifts her robes to reveal the entrance when approached by wizards and witches (CG).
Commentary
Notes
"Place Cachée" is French for "Hidden Place".
The little bit of history that is known about the shops in Place Cachée comes from the film and is laid out in "The Archive of Magic: The Film Wizardry of Fantastic Beasts: The Crimes of Grindelwald" by Signe Bergstrom and "Fantastic Beasts: The Crimes of Grindelwald: Movie Magic" by Jody Revenson.
1392 - Quidditch shop Gaston McAaron opened at #38.
1485 - Monsieur Sanfin Chaudrons shop opened at #39.
1586 - Clothing Shop (Official Home of uniforms for Beauxbaton Academy)
1614 - Cosme Acajor Wand Shop opened at #36 (wandmaker Cosme Acajor)
1614 – Magillard Plumes & Tomes at #44 (Bookstore)
1634 - the pub Griffon Buveur (The Drinking Griffon) opened.
1861 – Odette Favre's Maison Fondée (confectionery, pastry)
Other establishments along the street include:
Rammelle's Enchantée (candy store)
Le Corbeau Mystique Animalerie (pet shop advertising owls and birds)
Dr. Aziz Branchiflore (potion shop advertising a superbly qualified wizard, insectology, plant leaf treatments, balms of reptiles. (#35)
Bonnet Volant (hat shop – the favourite brand of elegant witches)
Does Gringotts have a branch office here?
In 1927, the Circus Arcanus set up at the intersection of Boulevard Voltaire and Rue Richer and displayed various spectacles.
Pensieve (Comments)