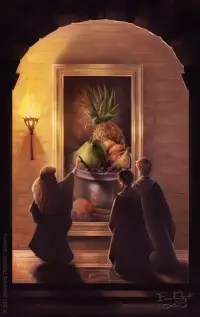 Various types of artwork are displayed in the halls of Hogwarts, including paintings and sculptures. Many if not all of these are magical and are animated in some way. Apparently there are no art classes at Hogwarts, although Dean Thomas is known for being a good artist.
paintings & other artwork
bowl of fruit, painting of
One of a series of cheerful paintings (mainly still lifes featuring food, although "still life" is a rather relative term to use in the wizarding world) that hang in a broad stone corridor to the left of the staircase leading one flight down from the Entrance Hall. The painting of the bowl of fruit will open to reveal the entrance to the Hogwarts kitchens if the pear is tickled (GF21)
landscape with trees
On the fourth floor. Peeves saw the Fat Lady running through this painting after she fled from Sirius' attack (PA9)
Entrance to the Hufflepuff common room
Like the Gryffindor common room, the entrance to the Hufflepuff common room is hidden behind a painting. In the case of Hufflepuff, the painting is a still life and it's located in a corridor somewhat below the level of the Entrance Hall, near the kitchens (BLC).
Argyllshire, map of
On second floor, Fat Lady hid here after being attacked by Sirius (PA9)
statues
tapestries
Tapestries on the walls of the corridors sometimes hide secret passages (PS9, CS8, OP28, HBP14), including the entrance to the staircase with the trick step (GF12, 25). There are tapestries in the Gryffindor common room (HBP9).
Barnabas the Barmy, moving tapestry of
depicting his foolish attempt to train trolls for the ballet, hangs on the seventh floor of Hogwarts Castle, opposite the entrance to the Room of Requirement (OP18, 26, HBP20).
Commentary
Tags: painting