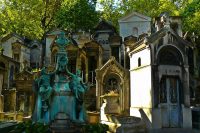 Père Lachaise is a Paris cemetery in which Gellert Grindelwald held a rally in an amphitheater accessed via the tomb of the Lestrange family (CG).
Grindelwald gave Credence a map of Père Lachaise after telling him to go to the cemetery to find out about his identity (CG).
Grindelwald had the box of Lestrange family records moved to the Lestrange tomb as a lure (CG).
Commentary
Notes
In Scene 91 of CG, the Lestrange tomb is described as "ancient." This adjective probably shouldn't be taken literally since Père Lachaise only opened in 1804 (source: Wikipedia).
Pensieve (Comments)