"Tentacula, Devil's Snare. And Snargaluff pod . . . yes, I'd like to see the Death Eaters fighting those."
-- Professor Sprout at the Battle of Hogwarts (DH30)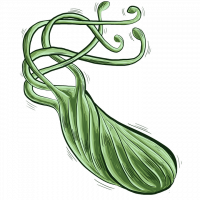 The pods of the Snargaluff tree are green and pulsating, about the size of a grapefruit.
Commentary
Notes
The reason for juicing the Snargaluff Pods is never explained. Possibly the juice is used for Potions, but that is never explained.
Pensieve (Comments)