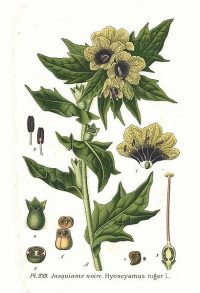 Henbane is a highly toxic plant that can be used in drinks and medicinal substances in small amounts.
Bouquets of henbane and belladonna (another poisonous plant) were advertised in the Daily Prophet, along with potted mandrakes (DP2).
Commentary
Notes
Pigs are not affected by henbane, although it is poisonous to humans, cows, and other animals (Wikipedia). According to Pottermore, pigs are considered particularly un-magical and difficult to perform magic on. Perhaps henbane is particularly magical in nature.
Pensieve (Comments)
Tags: dangerous ingredients plants poisons