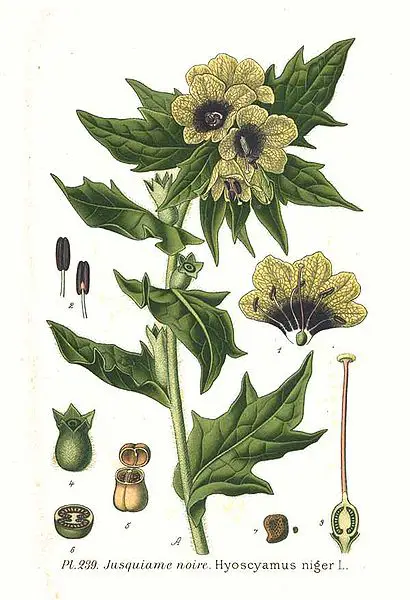 From Wikipedia:
"Description Hyoscyamus niger L.
Date 31 January 2001
Source Atlas des plantes de France. 1891
Author
Amédée Masclef (1858–) Blue pencil.svg wikidata:Q18507759
Permission
(Reusing this file)
Reproduction of a painting that is in the public domain because of its age"
"This is a faithful photographic reproduction of a two-dimensional, public domain work of art. The work of art itself is in the public domain for the following reason:
Public domain
This work is in the public domain in its country of origin and other countries and areas where the copyright term is the author's life plus 70 years or less.
This work is in the public domain in the United States because it was published (or registered with the U.S. Copyright Office) before January 1, 1923."
Commentary
Image title supplied by the Lexicon staff.
Comments