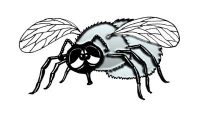 The Glumbumble is a magical furry grey insect from Northern Europe.(FB)
It produces a fluid that causes melancholy.
This fluid is used as an antidote for the hysteria that results from eating Alihotsy leaves.
Glumbumbles eat nettles.
Glumbumbles tend to nest in secluded, dark places.
Have been known to infest beehives.
Commentary