"Urtica Dioica, the stinging nettle. Useful in potions, delicious in soups, and said to give you glosssy hair. I wouldn't know, or care."
-- Zygmunt Budge (BoP)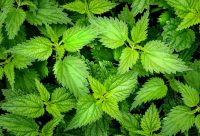 Nettles are a mundane stinging plant used in boil-cure potion and other remedies. They were also gathered in Queerditch Marsh for nettle tea (QA3)
On Harry's first day in Potions class the class had to weigh dried nettles for the Boil Cure Potion (PS8).
Nettle wine was one of the bottles in Snape's Potion Riddle to keep students away from the Philosopher's Stone (PS16)
Nettles were found in the Forbidden Forest where Grawp lived (OP30).
Nettles grew all around the Gaunt House (HBP10).
Nettles are found growing under the gate to the Dumbledore House in Godric's Hollow where James and Lily Potter lost their lives to Voldemort (DH16).
Nettles are food for Glumbumbles (FB).
According to legendary Potioneer Zygmunt Budge, nettles make a "fine soup," can be used to make hair glossy, and are also used for wound care. (BoP).
The stinging spines are the reason for the nettle's alternate name: "burn hazel" (BoP).
Potions Connection
Nettles are used in the Boil Cure Potion and Herbicide.
Commentary
Tags: boils cooking drinks ingredients liquids plant plants stings tea wine