"'Morfin has broken Wizarding law' ... He taught a filthy Muggle a lesson, that's illegal now, is it?"
-- Marvolo Gaunt to Bob Ogden, who responded with "Yes, I'm afraid it is!" (HBP10)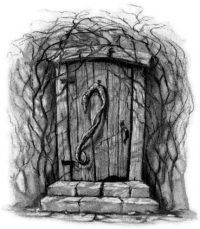 Ogden is investigating an attack on a Muggle by Morfin Gaunt late the previous evening. In the yard outside the hovel, Ogden is attacked by Morfin, then he encounters the irate Marvolo Gaunt who, along with his son Morfin, refuse to admit Morfin has done anything wrong, either in attacking the Muggle or in attacking Ogden. When Bob Ogden steps in to stop them injuring Morfin's sister, Merope, he is driven from the house (HBP10).
Timeline Notes
This happens "a few months" before Merope marries Tom Riddle.
Bob Ogden's initial visit to the Gaunt hovel
Type of Event
Wizarding world
Commentary
Notes
Cf. the episode in Middlemarch by George Eliot in which Brooke confronts Dagley about his son's poaching. -BB
Pensieve (Comments)