"So Death picked up a stone from the riverbank and gave it to the second brother, and told him that the stone would have the power to bring back the dead."
-- Beedle the Bard, Tale of the Three Brothers (TBB/TTB)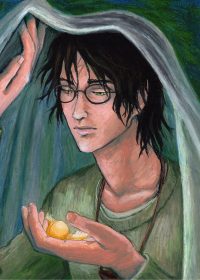 The second Peverell brother, described as "arrogant," told Death he wanted to call people back from the grave, so Death gave him the Resurrection Stone (DH21, TBB/TTB). Cadmus used the stone to call back a young woman he loved and wanted to marry in life, but she was unhappy to be resurrected and remained "separated from him as by a veil." He was so grief-stricken that he took his own life.
Cadmus was the ancestor of the Gaunt family through an unknown female ancestor, possibly a sister of Iolanthe Peverell. The Resurrection Stone was placed in the Peverell ring and eventually handed down to Marvolo Gaunt (HBP10, DH22). Marvolo thought the Peverell "coat of arms" was engraved on the stone, but it was actually the symbol of the Deathly Hallows.
Family
Brothers: Antioch and Ignotus
Descendents: Corvinus Gaunt, Marvolo Gaunt, Morfin Gaunt, Merope Gaunt, Tom Marvolo Riddle (Voldemort)
Cadmus Peverell
Distinguishing Features
"Arrogant" brother who tried to use the Resurrection Stone to bring back his lost love
Commentary
Notes
Probably named for Cadmus the founder and King of Thebes in Greek mythology who killed a Water Dragon and sowed the teeth into a field to create an army of warriors. But the act caused him such back luck that he began to turn into a dragon or giant snake himself, along with his wife. Perhaps a nod to the fact that the descendents of Cadmus Peverell - the Gaunts and Tom Riddle - were Parselmouths.
Pensieve (Comments)
Tags: death fairy tales family heirloom family tree grief nature stone unrequited love