"Meanwhile, in the village of Little Hangleton, a maid was running along the High Street, screaming that there were three bodies lying in the drawing room of the big house: Tom Riddle Senior and his mother and father ... The Ministry ... knew at once that this was a wizard's murder. They also knew that a convicted Muggle-hater lived across the valley from the Riddle house, a Muggle-hater who had already been imprisoned once for attacking one of the murdered people."
-- Albus Dumbledore (HBP17)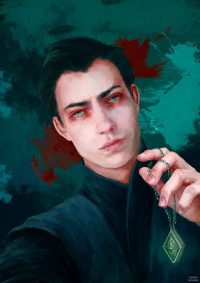 He first visits his uncle, Morfin Gaunt, and uses magic to steal Marvolo's ring and frame Morfin for the murders of the Muggles in the Riddle house. Tom uses the murders to create his first Horcrux, the ring. The next day, Morfin is taken to Azkaban, where he remains until his death.
Timeline Notes
Tom Marvolo Riddle was born in the last hours of 1926. His first year was 1927, his second year was 1928. Counting on in this way, we discover that his sixteenth year was 1942, which is when these murders occurred:
"In the summer of his sixteenth year, he left the orphanage to which he returned annually and set off to find his Gaunt relatives."
Tom Riddle murders his father and grandparents
Certainty
Inferred from canon
Type of Event
Wizarding world
Commentary
Tags: deaths murder murder victims mysterious