"'Follow the spiders.' I'll never forgive Hagrid. We're lucky to be alive."
-- Ron Weasley, after an evening jaunt in the Forest (CS15)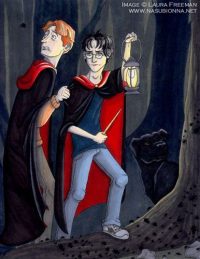 Spiders are arachnids, eight-legged creatures similar to insects. Hogwarts castle has quite a few common spiders, as do most human habitations. Magical spiders, unlike their common relatives, can be quite large and terrifying. The acromantula, a gigantic arachnid native to Borneo, is the best known of the magical spiders (FB, CS15, GF31, OP16).
Commentary
From the Web
Pensieve (Comments)